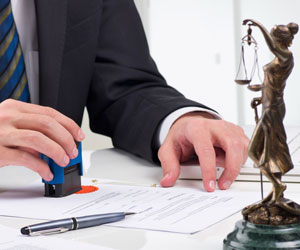 Notary Public Services are available
Zafar Law Firm provides notary public services under the Laws. Our services include the notarization of documents, certification of documents, and the commissioning or administering of oaths.
Our team of Notary Public is dedicated to providing you with quality service in an expeditious manner. We treat each matter as if it were our own because we know you wouldn't expect anything less.
Our notarization, commissioning and certification services include the following:
Certified Copies
Notarization or certification of copies of original documents
Passports
Notarization of a Statutory Declaration in Lieu of Guarantor

Certification of photographs & documents supporting identify
Consent to Travel Letters
Notarization or certification of Consent to Travel Letters
Witnessing of Agreements
Witnessing of agreements and certification of signatures
Affidavits
Administering of an oath or solemn declaration

Notarization of an affidavit
Permanent Resident Cards
Certification of copies of legal name change documents

Certification of copies of documents translated into English or French
Statutory Declarations
Administration of a solemn declaration for a Statutory Declaration
Mobile Notary Services
We are providing our services for Notarize the documents at the location of Mississauga / Toronto GTA in Ontario on mobility basis.