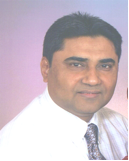 Muhammad Zafar
Barrister and Solicitor
Muhammad Zafar has good legal experience, skill and expertise in Civil Law Litigation, Family Law Litigation, and Personal Injury Law matters in Ontario, Canada. He provide legal services to his clients at their need and affordability. He proceeded many cases in different level of Courts in Civil Law Litigation, Family Law Litigation, and Personals Injury Law (Accident Benefits and Tort) matters and his success rate is too high.
Our recent important Civil Law Matters have been reported on Canlii Ontario that:
Guelph

Taxi

Inc. v.

Guelph

Police & Board, 2016 ONSC 7383 (Divisional Court) 
Third World Broadcasting Inc. v.

Pakistan

International,

2018 ONSC 7302, and
Weller v. Khalifa, 2020 ONSC 5507 (Divisional Court Appeal)
Azam v. Multani Custom Homes Ltd., 2022 ONSC 6536
Dealt with Personal Injury matters (Accident Benefits and Tort) in Courts and received maximum compensation for our clients from insurance companies. Many cases have been settled in favour of our clients on or before trial.
Dealt with Family Law matters and got quick results for our clients and many family law matter proceeded in Ontario Family Courts for Divorce, Child Custody, Child Support, Spousal Support and Equalization of Net Family Property.
Mr. Zafar also has more than 12 years experiences in Civil Litigation, Family Litigation & Criminal Law practice in different jurisdictions and many of his important cases were reported there in legal digests.
Mr. Zafar has a good team to handle all such type of cases. We meet our clients personally and advise independently according to their matter. We are dedicated to easing your stress and making things as simple as possible. "We fight for your rights".
You Are Not Alone
Life can feel very lonely when you are dealing with a tough legal situation — but when you turn to Zafar Law Firm, you will have a partner standing with you throughout the legal process. Whether your legal needs involve Civil disputes & matters, Family matters and Personal Injury matters, we will take care of the complex behind-the-scenes work that needs to be done. We are here to support our clients throughout the legal process. Our office also provide legal services for Real Estate Closings, Immigration matters, Wills & Power of Attorneys & Notary public.
Call Now For Your Consultation
We provide legal services to our clients across Ontario especially in GTA Toronto / Mississauga / Brampton / Milton / Newmarket / Oakville / Hamilton / Markham / Oshawa. Please contact us online or
 Call 905-267-5571, 905-232-4545 to set up a free initial consultation.